Privacy Statement
Your Privacy is important.
We lawfully collect personal information that is necessary for our business to function. The information we collect and hold will depend upon the products and services you request from us and may include: Information you provide us when you purchase goods or services. This information will include your name, address and contact details.
How we use your information
We use the information we collect for the purpose disclosed at the time of collection, or otherwise as set out in this Privacy Statement. We will not use your personal information for any other purpose without first seeking your consent, unless authorized or required by law. Generally we will only use and disclose your personal information:
To establish and maintain your relationship as a customer of The Famous Arthur Daley's
To provide the products and services you have requested from The Famous Arthur Daley's
To administer and manage those products and services.
To answer your inquiry.
For direct marketing by email, specials on products or services you have shown interest in.
If we contact you in this way without obtaining your prior consent, we will provide you with the opportunity to decline any further marketing communications. If you at any time receive any communication from The Famous Arthur Daley's which you would not like to receive, please contact us and we will remove your name from our mailing list.
Security
The Famous Arthur Daley's will take reasonable steps to keep secure any personal information which we hold and to keep this information accurate and up to date. Personal information is stored in a secure server or secure files. The internet is not always a secure method of transmitting information. Accordingly, The Famous Arthur Daley's cannot accept responsibility for the security of information you send to, or receive from us over the internet or for any unauthorized access or use of that information.
Owned, operated & based in Australia since 1992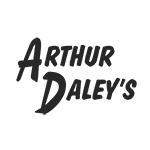 Everyday's a sale!
Navigation
"The Famous Arthur Daley's is the best shop I've been to on my world travels! Seeing is believing!" — Samantha Sang, Australian singer and international recording artist of 'Emotion' (written by Barry and Robin Gibb of the 'Bee Gees')
OPENING HOURS
MAIN BUILDING:
(LEFT HAND SIDE UPON ENTERING CARPARK)
Monday-Saturday: 9am-6pm
Sunday: 10am-5pm
PARTY BUILDING:
(RIGHT HAND SIDE UPON ENTERING CARPARK)
Monday-Saturday: 9am-6pm
Sunday: 10am-5pm
BALLOON STATION:
(PARTY BUILDING)
Minimum two weeks' pre-booking required for all balloon orders. We accept all bookings in store at our Balloon Counter only. No phone orders.
Monday-Saturday: 9:30am-5pm
Sunday: 10:30am-4pm
Public Holidays: 10:30am-4pm