About
Looking for a bargain? Whether shopping for home, work, a special occasion or rainy day, you'll find what you're looking for at The Famous Arthur Daley's.
You'll find a wide range of products at crazy low prices. We don't believe in fancy displays or gimmicks, just the best price for you. And there's always something new everyday.
The only catch is that some items run out quickly and you may never see them again. Drop into the store in and grab yourself a red hot deal!
And, we are open every day except Christmas Day.
Owned, operated & based in Australia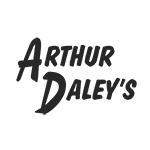 Everyday's a sale!
Navigation
"The Famous Arthur Daley's is the best shop I've been to on my world travels! Seeing is believing!" — Samantha Sang, Australian singer and international recording artist of 'Emotion' (written by Barry and Robin Gibb of the 'Bee Gees')
Opening Hours
PARTY SUPERSTORE/BALLOONS:
Closed until further notice


MAIN SUPERSTORE:
Sunday 10am-5pm
Monday-Thursday 9am-6pm
Friday 9am-6pm
Saturday 9am-6pm


OPEN ON PUBLIC HOLIDAYS EXCEPT CHRISTMAS DAY